Jet Methods Announces Addition of 2004 Beechcraft Premier 1 to Charter Fleet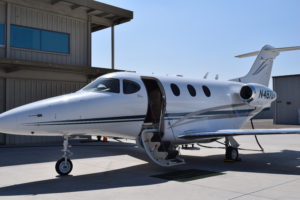 Jet Methods announced in April 2017, they have added a 2004 Beechcraft Premier 1 business jet to its managed charter fleet of private aircraft.
The Beechcraft Premier 1 is ideally suited for charter, boasting the highest cruise speed, biggest cabin cross section, and a half-foot more headroom than other light jets.
The cabin cross section of the Premier is actually closer to that of a conventional midsize jet. Equipped with a two-zone cabin climate control, aft lavatory, extremely generous luggage capacity and modern flat panel avionics, the Premier 1 represents a great charter value.