Onboard Catering 101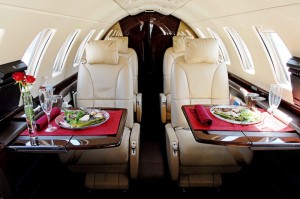 Have you ever showed up at the FBO and lamented on the sparse offerings of the vending machines? With a little pre-planning there are vast options above and beyond the vending machines to please most palettes.
AIRCRAFT CONSIDERATIONS
The type and size of aircraft you are chartering has the biggest impact on what can realistically be ordered with optimum satisfaction. There is little point in expecting a hot meal served over many courses in a turboprop or light jet without an oven, stove or microwave. In these cases, any food expected to be served warm or hot will need to arrive by the caterer fully cooked and packed to maintain its temperature. Similarly, turboprops and light jets lack space to store items requiring cold storage. Many of these aircraft do have ice drawers, however space would be limited to a few choice items. In addition, plan on space needed to accommodate serving trays and platters, flatware, napkins and a trash receptacle.
As you move up in aircraft size, generally you can expect more options to prepare and store catering items. Many mid-size jets come equipped with warming trays or microwaves, while large-cabin jets will quite possibly be equipped with cold storage space and warming/cooking ovens.
TIME THE DINING EXPERIENCE
Considering your flight time, especially short flights, will have an impact on what and how much catering can realistically be served and consumed (comfortably). Considering the flight time should always factor in to your order, whether you are ordering hors d'oeuvres on elaborate multiple course meals, otherwise someone else will benefit from some great leftovers.
WHEN & HOW TO ORDER
The best time to start planning your catering order is when you first plan your trip. JetMethods works with local food caterers who specialize in aircraft catering, however we are also happy to work with independent caterers of your choosing.
For those multi-leg trips, catering will require working with different vendors with different capabilities. You should be prepared to work with those variations as catering options could be limited depending on where you are traveling. Again, knowledge and preparation is the key.
Catering requirements such as your likes, dislikes, allergies, vegetarian, vegan, etc., should be determined early to ensure proper delivery and satisfaction. A JetMethods Flight Coordinator is available to assist with your catering requests, recommendations, or to simply answer a question.
And if all else fails, keeping some loose change for vending machines is not a bad idea.